The CONGres conference is organised by students (psycho-)biology and biomedical sciences from student association CONGO of the University of Amsterdam.
This year's conference committee consists of:
Tony Zeljkovic – Chairman
Joris Visser – Vice-chairman
Andries van der Meer – Secretary
Tom Hellings – Treasurer
Nicole Terpstra – Head of acquisition
Alexandra van Harten – Head of Speakers
Ildefonso Ferreira Pica – Head of Volunteers
Kim Heikamp – Head of Facilities
Cassandra van Tuijn – Head of Design
Joyce Blommaart – Head of Public Relations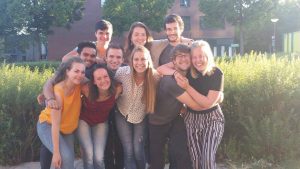 From left to right on the top row: Tom Hellings, Alexandra van Harten and Ildefonso Ferreira Pica.
Middle row: Andries van der Meer, Tony Zeljkovic, Joyce Blommaart, Joris Visser and Nicole Terpstra.
Bottom row: Kim Heikamp and Cassandra van Tuijn